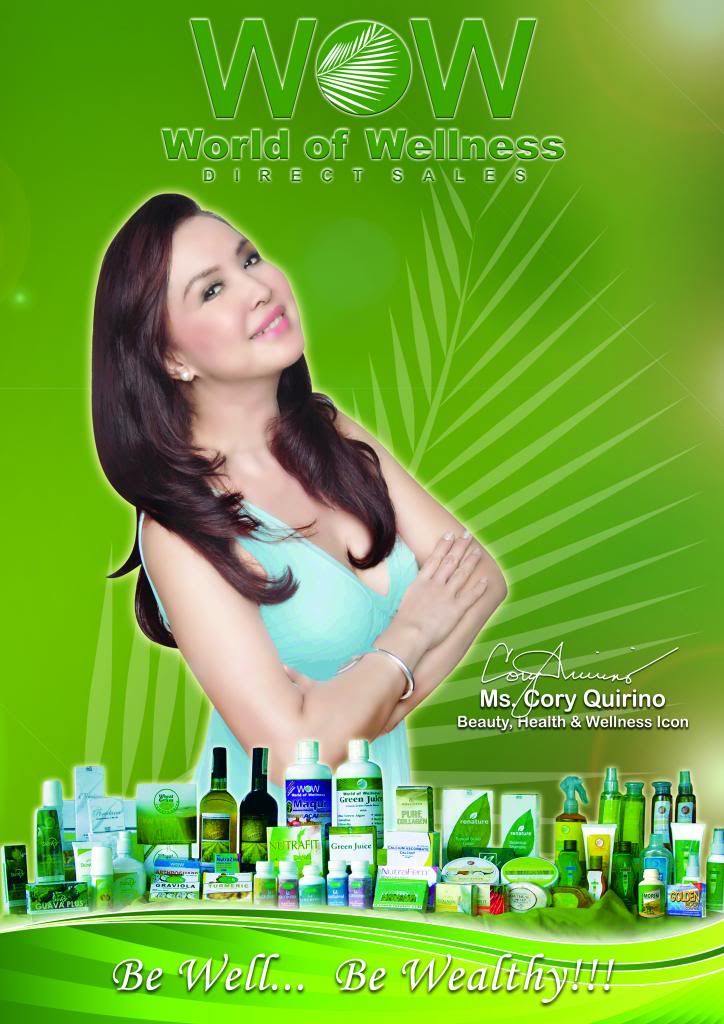 What was the buzz about Nov. 24, 2012, 1 -6 pm at Starmall Trade Hall, Shaw Blvd?
It was the most anticipated 2nd year anniversary celebration of WOW World of Wellness Direct Sales!
People listened to "What's keeps one forever young" by Ms Cory Quirino!
As WOW World of Wellness Direct Sales looks forward to its third year of fulfilling its mission of being the preferred ally of the wellness needs of the community, it celebrated its 2nd year anniversary on Nov. 24, 2012 at Starmall Trade Hall, Shaw Blvd. It turned out to be a perfect get-together of WOW distributors and wellness enthusiasts along with Ms Cory Quirino, WOW's medical consultants, management and staff, as all enjoyed themselves to the hilt with its WOWork-out theme!
With the enthusiastic hosting of Jojo Alejar and Ms Weng Cruz, WOW Sales & Operations Manager, and the inspired call of Mr Dennis Chispa, WOW Marketing Manager, to relish the celebration, they succeeded in raising the adrenaline of each one. All shook a leg in zumba; excitedly indulged in WOW fruit/vegetable/hyaluron & collagen juices, basic facial/calming back massage, healthy snacks, hair/scalp/body fat analysis; and basked in life-changing, enlightening talks on Boosting Sexuality by Dr. Lulu Marquez, internist and natural wellness advocate, on Skin Care by Dr. Marcellano Cruz, dermatologist, on Wellness thru Real Crystals by Sylvia Mariano, on Hyaluron & Collagen Benefits by Imelda Tesalona and on Staying Forever Young by Ms Cory Quirino. Many delightedly availed of the medical consultations; health consultation with Brightmove Health and Wellness using their 6 in 1 therapeutic device; free onsite WOW membership; and the Buy 1 Take 1 on WOW products.
WOW acknowledged the generous support of sponsors: Cocoon Boutique Hotel - an overnight stay for two persons with breakfast; Hurom Slow Juicer for fresh detox juices; Nailandia for hand/arm massage & discounts; Gym Plus Fitness Center/Elorde Boxing Gym for gift certificates & gym equipment showcase; Fanny Serrano Salon for discounts; D'Healthfield Enterprise for exercise equipment raffle prize; and Allied Bank - for a surprise raffle prize - whose representative detailed the benefits to WOW members, whose incentives are deposited to their Cash Card deposit account, of their ALLY ATMSafe Insurance Program.
Ms Sheila Mae Velilla, WOW President, in her keynote address was pleased to announce the 2013 key developments: (1) the launch of For Men Only Kit; WOW Product Catalog with the WOW's new products: Golden Root Complex, Skin Rx Feminine Wash, Porcelana Whitening Toner, and Moringa Glutathione Soap; new WOW website; and WOW E-commerce partnership; (2) DSAP membership; (3)1st overseas branch; (4) partnership with establishments; (5) continuing wellness education for members and branch owners; (6) media campaign; and (7) weekly Starmall event with free consultation with Dr. Bunny Bernardo, WOW resident wellness consultant.

All these for FREE + onsite WOW membership,They had a Buy 1 Take 1 promo, raffle and early bird prizes.